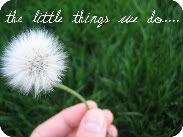 1. My favorite thing about this week has been
spending time with Sister and Hubby. Sister fits right in and we want to keep her forever.
2. The weather this week has been
as hot as always.
3. The last (interesting) item I received in the mail was
a sample for deodorant.
4. The last movie I saw was
Elizabeth Town. Love that movie!
5. If I could be doing anything I felt like today I would
grab Sister and Hubby and head out to Sanibel Island.
6. As a teenager I was
quite and often grumpy.
7. I wish I could trade lives for the day with
no one actually, I'm content being me.