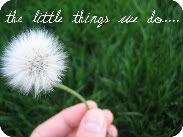 1. The best day ever was
my 20th birthday. Beautiful sunset beach french kisses with Hubby and amazing acoustic music dedications.
2. My favorite meal of the day is
breakfast because it's the easiest to make .

3. This weekend
I have to work and rest as much as possible.
4. Never in my life have I
died. hehe!
5. The only thing better than
grape soda
is
drinking grape soda in bed while watching Gilmore Girls.
6. I could really do with some
dinner. I'm hungry but too lazy/busy to cook anything. Plus everthing we have sounds gross.
7. The most recent thing I bought myself was
a clock for my wall. It was on sale for 75% off. It has a black frame and the words "families are forever" written on it, kinda vintage looking... I like it.